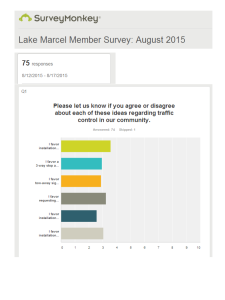 Thank you to everyone who took the time to respond to our recent Lake Marcel Member Survey where we sought your opinion on various issues the board is addressing.  We wanted to respond to a few of your comments and provide a little more information to help answer questions and concerns you voiced in the comment section of our survey.  We don't have all the answers yet, but we are working on them. As always we welcome your comments and ideas at our monthly board and community meetings, the third Tuesday of each month at 7:30pm (location will be noted in the sidebar of this site).  Refreshments are provided.
Parking on the walking path – This is a King County regulation not an LMCC violation.  We do have fliers that we can put on cars to remind them that parking on the walking path is a violation, but we do not always have the man power to distribute these fliers to cars in violation.  Anyone who would like to help with placing fliers on vehicles parked in the walking path can contact the office via email lkmarcel@nullfrontier.com with the subject line as parking fliers and we will contact you and provide fliers.  The board can also consider other options.
ATVs and Dirt Bikes – Unlicensed motor vehicles are not allowed on King County streets. Please contact 911 to report violators.  These activities can become annoying and be a nuisance to other neighbors.  Any activity that is annoying and of a nuisance to the neighborhood is prohibited by our covenants.  When possible, please report violators to the LMCC office by calling 788-2525.
Street Lights – We can look in to additional street lighting. We would most likely have to contact King County.
4th of July Event- We are thrilled to hear so many neighbors love the 4th of July event and the majority would like to see the event continue. This event does REQUIRE many volunteers. Please plan now to volunteer in some way next year if you would like to see this event continue.
Fireworks – This year we had to seek out a new pyrotechnic company to put on the LMCC fireworks show. We were given short notice and found very few companies available who could work with our unique location.  There were complications at this year's show resulting in a shorter display.  We have always used fireworks that are environmentally friendly and safe to use over aquatic areas. This is a tradition that is loved by most and we will work to make it a great show next year.
Sound System– We have always relied on volunteers in the neighborhood to provide the sound system for our 4th of July events including the 3rd of July movie night.  At this time we don't have funds to purchase a sound system. However, anyone who would like to volunteer and assist to improve the  sound next year can contact the office at lkmarcel@nullfrontier.com or 425-788-2525.
Funding for Fireworks – While we appreciate all the donations we receive from community members who donate to the firework show, we would not be able to fund the firework show with donations alone.
Tree Trimming at Beach 1- The trees at beach 1 will not be cut down, they will be trimmed.  This trimming will allow a lovely view of the lake (an opinion supported by those who attended the monthly board/community meetings) and insure the health of the trees as trimming will remove dead wood and allow more sunlight to reach the crowded trees. Trimming will also make that area less desirable for those who currently use it for illegal/inappropriate behavior.